STEARATES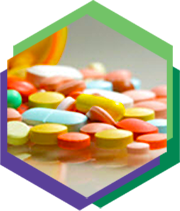 Mallinckrodt Pharmaceuticals offers high quality pharmaceutical grade stearates (Hyqual, Stear-O-Wet) with the DMF to support your company's formulation work, and food grade stearates that are Kosher, Halal, and RSPO Mass Balance (MB) certified.
Mallinckrodt Stearates have been manufactured at our Saint Louis, Missouri plant for over a century, with an eye on purity, consistency and uniformity. Our products comply with global compendial and regulatory standards such as National Formulary (NF), European Pharmacopoeia (EP), British Pharmacopoeia (BP), and Japanese Pharmacopoeia (JP). Our unique water based precipitation process yields a consistent, platelet-like particle – and is considered a true monohydrate.
As an added value to our customers, Mallinckrodt controls physical parameters not specified in the global compendia that contribute to consistent performance, such as surface area, particle size, and bulk density.
High-purity raw materials, compliance with cGMP requirements for APIs, and vast technical expertise all contribute to making Mallinckrodt the world leader in the production of high-quality, reliably performing Stearates for the pharmaceutical and food industry.
For your information, please review our Stearate Product Brochure.
Aluminum Stearate Products
CAS# 7047-84-9
Source
Specifications
Certifications
Aluminum Monostearate Hyqual™ (2263)
Palm
NF
Kosher for Passover; Halal; RSPO Mass Balance
Calcium Stearate Products
CAS# 1592-23-0
Source
Specifications
Certifications
Calcium Stearate Hyqual™ (2248)
Palm
NF/FCC
Kosher for Passover; Halal; RSPO Mass Balance
Calcium Stearate Hyqual™ (2249)
Palm
NF
Kosher for Passover; Halal; RSPO Mass Balance
Calcium Stearate Food Grade (5853)
Palm
FCC
Kosher for Passover; Halal; RSPO Mass Balance
Magnesium Stearate Products
CAS# 557-04-0
Source
Specifications
Certifications
Magnesium Stearate NF Veg (1726)
Soy
NF/EP/BP/JP/FCC
Not Kosher; Not Halal-certified
Magnesium Stearate HyQual™ (2257)
Palm
NF/EP/BP/JP/ ChP/FCC
Kosher for Passover; Halal; RSPO Mass Balance
Magnesium Stearate HyQual™ (5712)
Palm
NF/EP/BP/JP/ChP
Kosher for Passover; Halal; RSPO Mass Balance
Stear-O-Wet™ (8577)
Palm
Magnesium Stearate NF/EP/BP/JP/ChP/FCC
Sodium Lauryl Sulfate NF
Not Kosher; Halal; RSPO Mass Balance
Magnesium Stearate Nutraceutical (4024)
Palm
NF
Kosher for Passover; Halal; RSPO Mass Balance
Magnesium Stearate Food Grade (3508)
Palm
FCC
Kosher for Passover; Halal: RSPO Mass Balance
Magnesium Stearate Powder 434 (5774)
Palm
n/a
RSPO Mass Balance
NF – National Formulary
EP – European Pharmacopeia
BP – British Pharmacopeia
JP – Japanese Pharmacopeia
ChP – Chinese Pharmacopeia
FCC – Food Chemical Codex